This job listing has expired and may no longer be relevant!
UX Designer | Projektant/ka UX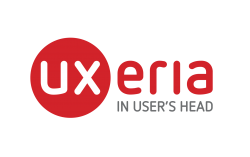 Opis oferty pracy
Cześć, 
Nazywamy się Uxeria i jesteśmy firmą badawczo-projektową skupioną na obszarze UX i Product Design.
Na co dzień realizujemy projekty dla wielu branż, przez co nikt się u nas nie nudzi 🙂
Aktualnie szukamy miłej i kompetentnej osoby do naszego zespołu, na stanowisko UX Designer.
Jeżeli cechujesz się m.in.:
min. 2-letnim doświadczeniem w pracy na stanowisku UX Designer

zaawansowaną wiedzą z zakresu użyteczności, UX i UCD

znajomością narzędzi tj. Axure, Figma, Adobe XD, etc. 

umiejętnością projektowania na kartce papieru

doświadczeniem w realizacji projektów UX (w zespole oraz samodzielnie)

analitycznym umysłem – rozumiesz zależności i zawiłości procesów i systemów

potrafisz wyciągać wnioski z raportów z badań UX

masz w sobie wewnętrzną "ciekawość ludzi i świata"

jesteś empatyczny/a i rozumiesz potrzeby Klienta
To mamy dla Ciebie wiele wyzwań, tj.:
projektowanie samodzielne lub we współpracy z Klientem 

współpracę z zespołem badawczym

prowadzenie warsztatów UX

wsparcie merytoryczne i konsultacje dla naszych Klientów

przygotowywanie case studies ze zrealizowanych projektów
W zamian za co oferujemy…
pracę na pełen etat w przemiłej atmosferze – szanujemy się wzajemnie, dlatego forma jest dowolna umowa o pracę lub B2B

klimatyczne miejsce pracy – samo centrum Warszawy, przy ul. Chmielnej 

🙂

możliwość pracy zdalnej

wpływ na produkty, które razem budujemy

udział w procesie powstawania innowacyjnych rozwiązań
Wysłać maila z CV lub Portfolio (najlepiej oba), na adres: < rekrutacja@uxeria.com >, a w tytule wpisz: UX Designer.
Nie zapomnij dodać klauzuli o przetwarzaniu danych osobowych (zgodnej z RODO):
Wyrażam zgodę na przetwarzanie moich danych osobowych przez Uxeria.com sp z o.o., w celu prowadzenia rekrutacji na aplikowane przeze mnie stanowisko.
Firma

Uxeria

Nowe oferty dla UX co tydzień!

Popularne oferty