This job listing has expired and may no longer be relevant!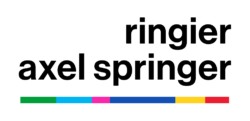 Opis oferty pracy
Ringier Axel Springer Polska jest wiodącą firmą mediową w Polsce oraz częścią międzynarodowej grupy Ringier Axel Springer Media AG, działającej w Europie Środkowo-Wschodniej i wydającej łącznie ponad 100 tytułów prasowych i 70 serwisów internetowych. Portfolio mediów Ringier Axel Springer Polska obejmuje ponad 20 uznanych marek drukowanych i cyfrowych takich jak: Onet – największy portal informacyjny w Polsce, Fakt, Newsweek, Forbes, Business Insider, ofeminin, Noizz, portale Sympatia, Skąpiec, Opineo i Jak dojadę.
Za co będziesz odpowiedzialny?
dbanie o spójność graficzną produktu
projektowanie elementów graficznych interfejsu użytkownika na web oraz mobile
prototypowanie, makietowanie oraz testowanie projektowanych rozwiązań w serwisie
bliską współpracę z PO oraz zespołem programistów
systematyczne usprawnianie istniejących rozwiązań
Czego oczekujemy?
Min. 1 rok doświadczenia w projektowaniu w obszarze UX
Dobre zrozumienie możliwości technologii (HTML, CSS, aplikacje mobilne, RWD)
Doskonałe zdolności komunikacyjne, umiejętność pracy w grupie, otwartość na feedback
Język angielski na poziomie przynajmniej komunikatywnym
Pracując z nami będziesz miał/-a:
Wpływ, autonomię, ale także wymianę wiedzy i wsparcie w ramach zespołu UX i Product Ownerów;
Możliwość analizowania i ulepszania najpopularniejszych produktów w polskim Internecie, ewaluacji swoich pomysłów i ciągłego uczenia się;
Możliwość odpowiedzi na realne potrzeby użytkowników.
Oferujemy:
Prywatna opieka medyczna
Karta Multisport
Grupowe ubezpieczenie na życie
Elastyczne godziny pracy
Dofinansowane inicjatywy sportowych
Imprezy firmowe
Firma

Ringier Axel Springer Polska

Nowe oferty dla UX co tydzień!

Popularne oferty