This job listing has expired and may no longer be relevant!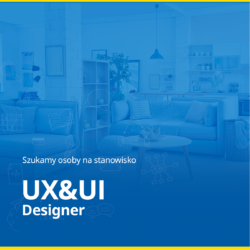 Opis oferty pracy
Powiększamy nasz zespół, tym samym szukamy osób, które dołączą do naszego zespołu jako
UX/UI Designer
.
Kto?
Bluecloud Interactive

Gdzie?
Warszawa

Za ile?
5000 – 7000
/ netto (do ręki)
Rodzaj pracy:
tylko
stacjonarnie w biurze
Tworzyć rozwiązania z zakresu projektowania graficznego oraz architektury informacji elementów portalu w oparciu o istniejący design system
Tworzyć projekty graficzne na potrzeby portalu
Tworzyć landing page w oparciu o style guide-y
Czego oczekujemy od Ciebie:
Wiedzy z zakresu projektowania graficznego oraz tworzenia architektury informacji
Znajomości zasad działania stron internetowych w zakresie front/back, pozwalających na swobodną współpracę z działem developerskim
Nastawienia na usability projektowanych elementów
Doświadczenia minimum 3-letniego w projektowaniu i pracy ze stronami internetowymi oraz portalami
Umiejętności projektowania w Ps, Ai, XD (mile widziane Sketch + InVision)
Stabilne zatrudnienie;
Pracę dla dużego klienta;
Pracę na iMacu 27";
Kartę Multisport;
Ubezpieczenie Luxmed;
Kurs języka angielskiego;
Pracę w biurze na Wilanowie w nowoczesnym, ekologicznym kompleksie.
CV+Portfolio proszę przesyłać na adres:
pcegielski@bluecloud.agency
Firma

Bluecloud Interactive

Nowe oferty dla UX co tydzień!

Popularne oferty