Ta oferta pracy nie jest już aktualna!
UX/UI Designer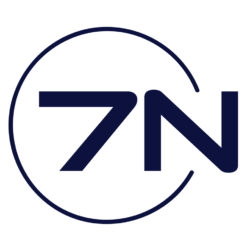 Opis oferty pracy
7N to agent doświadczonych specjalistów IT. Jesteśmy firmą z duńskimi korzeniami, działającą zgodnie ze skandynawskimi wartościami. W ciągu 30 lat działalności dowiedliśmy, że jawny i przejrzysty model finansowy, współpraca wyłącznie z ekspertami w swoich dziedzinach oraz bardzo dobra opieka nad nimi są najlepszym modelem konsultingu IT. Promujemy kompetencje naszych konsultantów u klientów, oferując możliwość uczestniczenia w różnych projektach, dołączając do tego długoterminowość współpracy i zawodową stabilność.
O projekcie
Obecnie do projektu z branży bankowości elektronicznej poszukujemy projektantów UI/UX
Konsultanci głównie rozwijają platformę bankowości elektronicznej, ale angażowani są również w projekty na innych systemach. Wprowadzają nowe funkcjonalności i rozwijają już istniejące. systemów oparte są też o inne rozwiązania.
Zakres obowiązków
projektowanie procesów i scenariuszy użytkownika w aplikacjach biznesowych dla pracownika i klienta zewnętrznego (bankowość elektroniczna)
współpraca z innymi UX, UI oraz z zespołem developerskim podczas wdrażania nowych funkcjonalności i rozwijaniu istniejących
przygotowanie i przeprowadzanie testów użyteczności
weryfikacja założeń biznesowych (z uwzględnieniem kontekstu użytkownika)
Oczekiwania
3 lata doświadczenia w projektowaniu aplikacji webowych
Doświadczenie w zakresie projektowania aplikacji webowych, tworzenia działających prototypów w oprogramowaniu Axure na podstawie wymagań jednostek biznesowych
Doświadczenie w pracy w zespołach z podziałem na role programistów frontendowych i backendowych, komunikatywność i umiejętność pracy w zespole
Umiejętność tworzenia makiet w aplikacji Axure, Sketch
Bardzo dobra znajomość zagadnień:

Responsive web design (RWD)
User Experience
Usability
Rich Internet Application (RIA)
Aplikacje hybrydowe na urządzenia mobilne
Naszym konsultantom zapewniamy
Jawność finansową: wynagrodzenie w wysokości 65-90 PLN/h netto + VAT  przy współpracy podwykonawczej
Przejrzystość finansową (model 75/25). Jako jedyna firma na polskim rynku IT transparentnie dzielimy wynagrodzenie, jakie otrzymujemy od naszych klientów.
Wsparcie w rozwoju zawodowym. Dofinansowujemy szkolenia, certyfikacje, udział w konferencjach technicznych I pozatechnicznych, naukę języków obcych.
Współpracę z ekspertami. Średnia lat doświadczenia zawodowego konsultanta 7N to 10 lat.
Swobodę we współpracy. Jako jedna z niewielu firm IT nie stosujemy zakazów konkurencji, umów lojalnościowych, etc.
Benefity pozapłacowe. Dofinansowanie opieki medycznej oraz karty Benefit Multisport niezależnie od formy współpracy.
Całościowe wsparcie na projekcie, opiekę dedykowanego Agenta – opiekuna i zapewnienie ciągłości projektowej.
Liczne (ok. 10-12 w roku) i stojące na wysokim poziomie eventy firmowe (przykład: 7N Kick Off 2018: https://youtu.be/0YoTCeVsB3E).