Ta oferta pracy nie jest już aktualna!
UX Researcher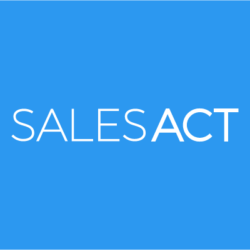 Opis oferty pracy
SalesAct to zespół doświadczonych ludzi, którzy chcą odnieść sukces. Wykorzystując najnowsze technologie webowe oraz wiedzę z zakresu UX, tworzymy oprogramowanie do automatyzacji marketingu. Ponieważ mamy świadomość, że jest to trudne zadanie, wykorzystujemy najlepsze techniki zarządzania i organizacji pracy, tak aby nasz proces był wydajny, a praca sprawiała radość i satysfakcję.Tworzymy interdyscyplinarny zespół, który jest gotowy zmierzyć się z poważnymi zadaniami oraz wziąć odpowiedzialność za własne działania. Jeśli chcesz się rozwijać, szukasz wyzwań, a nie tylko pracy, dołącz do nas!

Aplikuj TERAZ i przyłącz się do tworzenia produktu, z którego będziesz dumny!

Kogo szukamy?

UX Researcher'a, który jest w stanie wesprzeć proces projektowy i przeprowadzić badania z użytkownikami na całym świecie. Twoim zadaniem będzie bliska współpraca z projektantami i właścicielem biznesowym, w celu zapewnienia dopływu informacji potrzebnych do świadomego projektowania usług.

Brzmi interesująco? Zobacz, na czym będzie polegać Twoja praca:

Pomożesz nam zapewnić doskonałą jakość usług User Experience podejmując wymienione poniżej wyzwania:
Współpraca z projektantami i udział w procesie projektowym;
Opracowanie planu badawczego i metodologii badań;
Tworzenie i przeprowadzanie badań z użytkownikami;
Analiza wyników i dostarczanie wniosków z przeprowadzonych badań;
Szerzenie wiedzy na temat badań UX w zespole;
Ciągłe doskonalenie procesu badawczego.
Jeśli jesteś utalentowanym i doświadczonym UX Researcherem, szukamy właśnie Ciebie!Czego oczekujemy od idealnego kandydata?
Bycia absolwentem studiów psychologicznych, socjologicznych lub kognitywistyki;
Doświadczenia w przeprowadzaniu badań ilościowych i jakościowych;
Znajomości MS Excel na poziomie średniozaawansowanym;
Podstawowej znajomości analityki webowej;
Biegłej znajomości języka angielskiego;
Umiejętności adaptacji do zmiennych wymagań projektowych;
Umiejętności pracy w grupie;
Mile widziane jest doświadczenie w prowadzeniu badań marketingowych;
Sprawdź, co zapewniamy członkom załogi:
Realny wpływ na kształt naszych produktów – Twoje decyzje są znaczące.
Przepyszną kawę – każdego dnia na Twoim biurku.
Pracę w zespole Agile – Projektowanie w środowisku Agile
Startup'ową atmosferę – rozwijamy się tak szybko, jak nasze produkty
Szkolenia i konferencje – Twoje umiejętności i rozwój są dla nas cenne.
Pracę zdalną – okazjonalnie możesz pracować z domu.
W pełni wyposażoną kuchnię – pożegnaj się z długimi kolejkami do kawiarni.
Dzień pizzy – smaczne danie dostarczane prosto do naszego biura.
Strefę chilloutową – PS4, piłkarzyki, stół do tenisa stołowego, w tym miejscu będziesz mógł się rozluźnić.
Lekcje j. angielskiego – nauczysz się porozumiewać się w międzynarodowym środowisku.
Ciekawą lokalizację na Stadionie Narodowym – dogodny dojazd do centrum miasta.
Darmowy parking – dostępny dla naszych pracowników.
Agile Coaching – mentoring, który pomoże Ci rozwijać swoją karierę już od samego początku.
Aplikuj tutaj: https://salesact.workable.com/jobs/392611
Złóż aplikację już dziś, a wkrótce się z Tobą skontaktujemy. Porozmawiajmy w naszym biurze lub na Skype. Czekam na Twoje CV i chętnie portfolio!