Ta oferta pracy nie jest już aktualna!
UX Designer (Warsaw)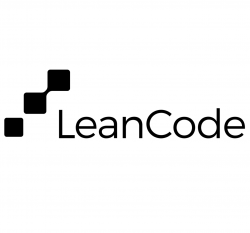 Opis oferty pracy
Hello UX Designer!
Are you a keen advocate of Design Thinking methods? 
Do you know what it takes to validate the business idea? 
You cannot imagine the live without Figma, Sketch or Invision? 
If the answer is yes, then you are a perfect candidate for the UX Designer role at LeanCode!
Craftsmanship first
In our projects we push Figma to its limits by creating beautiful and programmable Design Systems. Our UX Team cooperates hand at hand with developers to make sure that everything is aligned and the information provided in the designs is exhaustive in terms of all interactions, animations and edge cases. We organize two-weekly sessions with experts from the industry to enhance the growth and promote the learning process.
UX goes beyond mockups
While working with our clients we use a lot of Service Design techniques that help us to identify the pain that the end-users are experiencing and enable us to offer solutions to their problems. We are evangelists of Lean Startup approach (as described by Eric Ries), which forces the teams to get out of the office and investigate the business need, discuss it with the client and promote the interviews with end-users. Our Design process starts with interactive workshops that take from two to five days (as designed by Jake Knapp in Google Sprint guidelines) during which often the Proof of Concept is created. When the solution is validated it is further analyzed in an iterative fashion to offer new features that are regularly released to the real audience so that to build the MVP. This process helps us to stay aligned with the end-users needs and deliver the highest value.
About LeanCode
LeanCode is a software studio based in Warsaw (Poland) with a strong focus on building great products that matter. We are a team of 60+ skillful developers, UX designers, and product owners. Our mission is to solve real-life problems using cutting-edge technologies while keeping the user at the heart of the product.
Our clients represent different industries from banking and insurance, through retail and Medtech products up to the SaaS solutions. This gives our team plenty of room to explore new businesses and master challenging domains.
We work for companies from all over the world (at the moment that is: Poland, Germany, UK, the USA, Australia, and China). We join forces with the clients at the very early stage of the process. Thanks to that we have a substantial impact on not only the organizational aspects of the project but also on how the developed product actually works and looks like. This approach requires very close cooperation with the clients, including frequent workshops and day-to-day meetings with them.
We are truely agile 
At LeanCode we are actively using SCRUM with all its artifacts and ceremonies. Our self-organizing development teams are headed by Product Owners, who are responsible for the delivery of the digital products in close cooperation with the UX/UI Designers and Business Owners on the client-side. Our approach guarantees the best organization and the highest efficiency which contributes to the great atmosphere within the project teams. This approach is also both demanding and challenging for the UX Designers who need to better understand the business environment for their projects. Therefore this role is suited for candidates who are willing to develop and learn new business skills while delivering state-of-the-art digital solutions.
Important facts:
As a UX Designer at LeanCode you will be responsible for bringing the clients' vision to life by using the Design Thinking techniques.
Responsibilities:
Analysing the business need of client and structuring the problem;

Desk research and benchmarking for the existing solutions to the problem;

Solution engineering using Service Design Methods;

Creation of the Low-Fi and Hi-Fi, interactive mockups, and all necessary product exemplifications enabling the communication with key stakeholders;

Facilitating the Product Roadmap design process;

Working on Product Backlog;

Cooperating with the Scrum Teams on delivering the product;

Researching the target group, validating the solution during focus groups;

Helping to recruit the audience for the focus groups.
You will be considered a perfect match for this role if you have:
Experience as a UX/UI Designer  (2+ years) in building mobile apps and web portals;

Experience in working with Scrum;

Excellent command of English and natural communication skills;

Process and structure-oriented thinking.
We give extra points for:
Experience in market research and running focus groups.
Other important facts on what you can expect:
Work at our HQ (Warsaw, Służew metro station) – hybrid model is possible;

Comfortable, spacious office with a large backyard (we have frequent BBQ parties between lockdowns);

Specialty coffee from a local roastery (yes, we are coffee freaks…);

Regular UX meetings and working on the internal processes

to excel in delivery

;

Frequent technical talks from various areas of software development (system architecture, Domain-Driven Design, mobile & frontend trends, UX);

We play table tennis and table soccer.
Recruitment process:
Submit an application form: https://leancode.elevato.net/en/ux-designer,ja,64?source=1024.

Get through our 1-st review during which you will be asked to solve interesting case studies. 

Join the call with our CEO/CTO to solve additional case studies during which you can show off your structured analytical thinning and afterward discuss the potential cooperation and your future development.

Welcome on board to one of probably the fastest growing Digital Product Studios in Poland!
Poziom: mid/regular
Minimalny staż pracy: 2 - 5 lat
Poziom: mid/regular
Minimalny staż pracy: 2 - 5 lat