Ta oferta pracy nie jest już aktualna!
UX Designer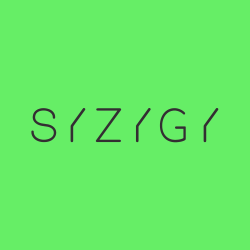 Opis oferty pracy
W SYZYGY tworzymy interdyscyplinarne zespoły projektowe, w ramach zespołu każdy przyjmuje rolę wynikającą z jego umiejętności i potrzeb. Każdy zespół to małe środowisko, w którym pracuje się ramię w ramię, bez korporacyjnego drylu. Angażujemy się zarówno w małe projekty, trwające kilka tygodni, dla lokalnych klientów, jak i w duże przedsięwzięcia często trwające dłużej niż rok, dla klientów międzynarodowych. Każdy w zespole ma możliwość wpływu na zarządzanie produktem – cenimy takie inicjatywy. 
Jak będzie wyglądała Twoja praca u nas?  
Twój czas będzie podzielony na dwa zespoły.

 

Będziesz tworzyć makiety, prototypy i interfejsy użytkownika. 

 

Twój wkład będzie widoczny na wszystkich etapach powstawania produktu.

 

Będziesz prowadził warsztaty projektowe z klientami poparte analizą systemową i biznesową. 

 

Twoje wnioski z Google Analytics i Adobe Analitycs będą cennym źródłem informacji. 

 
Co jest dla nas ważne: 
min. 3 lata komercyjnego doświadczenia wykazanego na przykładzie konkretnych projektów;

 

bardzo dobra znajomość Sketcha i Google Analitycsa;

 

umiejętność tworzenia diagramów, ścieżek użytkownika i architektury informacji; 

 

umiejętność prezentacji swoich pomysłów i projektów przed zespołem i klientem;

 

dobra znajomość języka angielskiego w mowie i piśmie (C1);

 

samodzielne podejmowanie decyzji i branie odpowiedzialności za swoje zadania i pełnione przez siebie role w zespole. 

 
Pasujemy do siebie, jeżeli:    
skupiasz się na zrozumieniu potrzeb klienta i potrafisz dostosować styl pracy do zmieniających się wymagań – mamy różnorodne projekty i klientów a część z nich wymagają od nas dużej inicjatywy;  

 

chcesz patrzeć szerzej na naszą organizację i pomagać nam w tworzeniu rozwiązań szytych na miarę – czujesz się dobrze w roli solution architekta;  

 

łączysz w swojej osobie zrozumienie biznesu, analizę systemową i wiedzę technologiczną;  

 

twoją mocną stroną jest myślenie produktowe;  

 

lubisz i rozumiesz specyfikę projektów digitalowych;   

 

cenisz opinie innych i chcesz pracować w firmie, w której ważna jest wymiana myśli (kultura feedbacku);    

 

masz doświadczenie w tworzeniu backlogu, dokumentacji funkcjonalnej oraz w pracy z PO; 

 

posiadasz

 

umiejętność

 

analizowania

 

i

 

optymalizacji

 

produktów
To ogłoszenie to jedynie przedsmak tego co mamy Ci do zaoferowania. Konsola do gier? Mamy. Dress Code? Nie chcemy. Elastyczne godziny? Są! A twoje wolne jest płatne. Zapewniamy Multisport i Medicover oraz wiele innych pozapłacowych benefitów. Wiadomo, o co chodzi.
Ale najlepiej przekonać się na własnej skórze — przyjdź, poznaj nas bliżej i zadecyduj czy Ci się podoba!
Jak możesz zaaplikować?
Poprzez ten link: https://bit.ly/33MXDaQ
Za pomocą tego maila: malgorzata.zwolinska@syzygy.pl