Ta oferta pracy nie jest już aktualna!
UX designer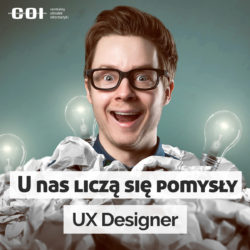 Opis oferty pracy
Powiększamy Zespół UX, szukamy kilku kolejnych osób – może to będziesz właśnie Ty!
Oferty: Junior – 4500 zł/ Mid – 8000 zł /Senior – 9000 zł (do negocjacji). Zatrudnimy również team (senior/mid – junior).
Chcesz pracować w zgranym zespole i tworzyć usługi cyfrowe? Dołącz do Centralnego Ośrodka Informatyki (Grupa Ministerstwa Cyfryzacji). Przed Tobą jedne z najważniejszych projektów w Państwie, tworzymy usługi dla obywateli oraz administracyjne dla kraju. Chcesz żeby żyło się wygodniej? Masz na to wpływ, bo z nami #cyfryzacjatofrajda
Będziesz brał udział w niepowtarzalnych przedsięwzięciach: małych, średnich jak również charakteryzujących się dużą złożonością (niektóre z nich planowane są nawet na kilka lat).
Jakie będą twoje zadania:
• Przygotowywanie procesów, architektury informacji, makiet i dokumentacji projektowej, budowanie interaktywnych prototypów aplikacji,
• Dbanie o estetykę, detale i wysoką jakość projektów webowych oraz offline,
• Współpraca przy tworzeniu siatek, mapy przepływu stron, diagramów architektury informacji i inne niezbędne komponenty UX,
• Dbanie o użyteczność, dostępność, estetykę i ogólnie wysoką ergonomię interfejsów;
• Prowadzenia badań użyteczności i wywiadów pogłębionych
• Badania i analiza aktualnych trendów i rozwiązań (śledzenie rynku UX)
• Ścisła współpraca z zespołami redaktorskimi, developerskimi i analitycznymi przy wprowadzaniu nowych funkcjonalności i rozwijaniu już istniejących.
Czego oczekujemy od ciebie:
• Minimum 2-letnie doświadczenie zawodowe w projektowaniu usług cyfrowych w dużej firmie lub agencji na podobnym stanowisku poparte ciekawym portfolio,
• Samodzielność i umiejętność współpracy w zespole,
• Uczestnictwo w warsztatach projektowych,
• Zainteresowanie projektowaniem, znajomość zasad UCD, i trendów w projektowaniu
• Asertywność i umiejętność racjonalnego bronienia swoich pomysłów (wizji) przy zachowaniu otwartości na feedback;
• Umiejętności graficzne, obsługa programów do prototypowania (AXURE, ADOBE XD), mile widziana znajomość ADOBE PHOTOSHOP,
• Podstawowa znajomość zasad budowy UI interfejsów i style – guide (chęć rozwoju),
• Poczucie estetyki,
• Umiejętność spojrzenia na projekt uwzględniając użytkownika i kontekst biznesowy,
• Wiedza z obszaru IT i technologii związana z budową usług cyfrowych.
Co możemy ci zaoferować:
• Zdobycie doświadczenia w projektach zorientowanych na klienta na wielu poziomach, w sposób spójny i wykraczający w przyszłość,
• Zatrudnienie na podstawie umowy o pracę,
• Elastyczny czas pracy 7-17,
• Możliwości szybkiego rozwoju i awansów w szczeblach kariery zawodowej,
• Nowoczesne biuro niedaleko Dworca Zachodniego wyposażone w sale relaksu i odpoczynku,
• Udział w zróżnicowanych technicznie projektach,
• Dostęp do najnowszych technologii,
• Pracę nad aplikacjami, usługami i produktami, które mają wpływ na miliony użytkowników,
• Dobry sprzęt i rynkowe wynagrodzenie.
CV wraz z portfolio proszę kierować na adres email: tomasz.mikulski@coi.gov.pl