This job listing has expired and may no longer be relevant!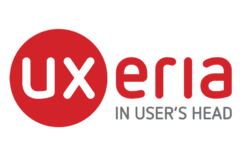 Opis oferty pracy
Cześć,
z tej strony Uxeria, firma doradczo-projektowa realizująca ciekawe, inspirujące i innowacyjne projekty dla  polskich i zagranicznych graczy. Ostatnio dużo się u nas dzieje, współpracujemy z ciekawymi klientami nad strategicznymi projektami.
No i własnie ze względu na dość dynamiczny rozwój, szukamy UX Designera.
Czego oczekujemy od osoby na tej pozycji:
doświadczenia min. 2 lata na pozycji związanej z projektowaniem produktów,
udokumentowanej historii sukcesów i porażek (zwłaszcza tych drugich),
umiejętności prowadzenia projektów UXowych,
praktycznej znajomości technik projektowania i prac nad makietami,
wszechstronnej wiedzy na temat product developmentu – nie szukamy tylko rysownika makiet, lecz kogoś, kto wie jakie zmienne dobierać i w jaki sposób definiować problemy / wyzwania ;),
doświadczenia w przeprowadzaniu badań użyteczności / innych badań jakościowych,
doskonałej znajomości technologii pod kątem insightów, benchmarków, case studies – interesują nas ludzie pasjonujący się światem cyfrowym i regułami nimi rządzącymi,
wysokich umiejętności interpersonalnych – będziesz zaangażowana/y w relacje z klientami – stąd musisz wiedzieć, w jaki sposób komunikować się z różnymi interesariuszami projektów, by osiągnąć swój cel,
Co możemy zaoferować?
mega ciekawe projekty i wyzwania, w tym zagraniczne (i wyjazdy, choć i tak zdecydowana większość czasu to praca u nas w biurze),
świetną atmosferę pracy wśród profesjonalistów i praktyków – nakierowaną na myślenie i rozwijanie kompetencji projektowych,
zrozumienie roli UX/Product Design w przekroju wielu biznesów,
praca przy Chmielnej,
wynagrodzenie adekwatne do doświadczenia, na poziomie ok. 8.000 zł – 12.000 zł netto miesięcznie,
Multisport najwyższy pakiet, za chwilę podobnie z pakietem medycznym.
Wyślij CV na adres rekrutacja(at)uxeria.com.
Firma

Uxeria

Nowe oferty dla UX co tydzień!

Popularne oferty