Ta oferta pracy nie jest już aktualna!
UX Designer
Hycom SA
Etat
Łódź,

województwo łódzkie, Polska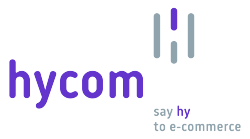 Opis oferty pracy
Hycom tworzy dla swoich klientów najbardziej nowoczesne i złożone rozwiązania omnichannel commerce. Dzięki wiedzy i wieloletniemu doświadczeniu członków zespołu oraz zdolnościom technologicznym i integracyjnym budujemy innowacyjne rozwiązania łącząc wszystkie kanały obsługi klienta: internet, aplikacje mobilne, punkty sprzedaży w jedno spójne doświadczenie klienta.
Pracujemy dla dużych organizacji tworząc strategie, optymalizując doświadczenia użytkownika i dostarczając systemy najwyższej jakości, szukając rozwiązań realizujących cele klienta. W dwóch biurach w Warszawie i Łodzi pracuje ponad 180 osobowy zespół dynamicznych, miłych ludzi chcących ulepszać świat e-commerce.
UX Designer
Miejsce pracy: Łódź / Warszawa
Opis stanowiska:
Tworzenie interaktywnych makiet i prototypów serwisów i aplikacji,
Ewaluacja rozwiązań pod kątem logiki i łatwości użycia,
Opracowywanie materiałów do badań z użytkownikami, uczestniczenie w badaniach,
Prowadzenie i uczestniczenie w spotkaniach projektowych – zbieranie wymagań, prowadzenie warsztatów,
Kreatywne nastawienie,
Współpraca w kreatywnym zespole.
Wymagania:
Min. 2-letnie doświadczenie w pracy nad zagadnieniami UX / UI,
Doświadczenie we współpracy z zespołem projektowym,
Zainteresowanie obszarami User Experience,
Analityczne myślenie,
Swobodna komunikacja w języku angielskim,
Doświadczenie w pracy z Axure lub innym narzędziem do tworzenia makiet.
Oferujemy:
Współtworzenie innowacyjnych interfejsów e-commerce dla największych firm polskich i światowych,
Fantastyczną atmosferę w koleżeńskim, dynamicznym zespole, który chętnie dzieli się wiedzą,
Kreatywną pracę i szerokie możliwości rozwoju,
Elastyczny czas pracy,
Atrakcyjne wynagrodzenie,
Prywatną opiekę medyczną,
Dofinansowanie pakietu sportowego,
Dofinansowanie nauki języków obcych,
Ubezpieczenie grupowe.
Hycom. Say Hy to the future.
CV wraz z portfolio prosimy przesyłać na adres: join@hycom.pl, w tytule wpisując "UX Designer".
Prosimy o zawarcie w aplikacji klauzuli: "Wyrażam zgodę na przetwarzanie moich danych osobowych dla potrzeb niezbędnych do realizacji obecnego oraz przyszłych procesów rekrutacyjnych prowadzonych przez Hycom SA oraz pozostałe Spółki Grupy EUVIC (zgodnie z Ustawą z dnia 29.08.1997 roku o Ochronie Danych Osobowych; tekst jednolity: Dz.U.z 2014r., poz.1182 ze zm.). Jednocześnie oświadczam, iż zostałem poinformowany o przysługującym mi prawie do wglądu i poprawiania moich danych osobowych oraz że dane te podaję dobrowolnie."