Ta oferta pracy nie jest już aktualna!
UI Visual Designer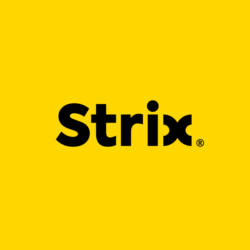 Opis oferty pracy
We are looking for a talented person to join the Commerce Design team at Strix who will help us improve our customers' sales processes and develop our own products.
UI Visual Designer
8 000 – 15 000 PLN +VAT (B2B)
We are currently looking for designers with at least 5 years of experience in digital design.
How do we work in the Commerce Design team at Strix?
15 minutes of reading
Some of the brands you will be working for:
Castorama, TOUS, Super-Pharm, Nescafe Dolce Gusto, Semilac, hiHybrid, I'm Inter Motors, Lancerto, Decathlon, Ergonode
About Strix
Strix provides consulting and implementation services in the area of omnichannel, e-commerce and digital transformation for companies from the B2C and B2B sectors. As one of the most experienced, official Adobe (Magento) partners in Europe, we have been implementing Magento-based e-commerce solutions for over 10 years for leaders in the DIY, electronic, construction, automotive, fashion & beauty, financial and FMCG industries. Properly constructed organizational culture and numerous locations in the region of Central and Eastern Europe guarantee effective knowledge transfer and the highest quality of the implemented projects.
Main responsibilities:
designing beautiful user interfaces of e-commerce websites for well-known brands and other Strix products,
preparing interface animations that present micro-interactions,
creating wire flows and interactive prototypes,
designing style boards, key-visuals, newsletter campaigns,
creating complex Design Systems and projects documentation,
mapping the acquired requirements to the functionality of the application,
building information architecture,
educating co-workers and customers about best practices,
improving our internal work processes and mentoring less experienced designers.
Requirements:
outstanding portfolio of digital products,
excellent knowledge of e-commerce websites design patterns,
fluent English at B2+ level,
at least 5 years of experience in designing websites or applications,
ability to demonstrate clear and concise arguments for project decisions,
strong competences to convince the stakeholders to the recommended solutions,
knowledge of technological possibilities and SEO requirements,
experience in designing for e-commerce needs,
strong knowledge of UI principles and best practices,
high creativity and ability to think independently,
knowledge of WCAG accessibility rules,
ability to search for and create simple but effective solutions,
outstanding communication skills and the ability to work in a team,
very good knowledge of design tools,
knowledge of analytical tools,
familiarity with HTML, CSS and CMS systems,
strong knowledge about composition rules and typography.
Nice to have:
knowledge of Baymard Institute heuristics,
understanding of omnichannel processes,
familiarity with the Magento system,
experience in working with the Scrum methodology.
Some of the tools we use
Design: Sketch, Principle, InVision (prototype, inspect, DSM), Photoshop, Illustrator, Adobe XD, Premiere, After Effects, Avocode
Research: Hotjar, Fullstory, Mouseflow, TreeJack, OptimalSort, Typeform, Google Analytics
Other tools: Business Model Canvas, Value Proposition Canvas, Customer Journey Map, Value/Effort Matrix, BPMN 2.0, SWOT analysis
We also have some of our own tools and models of acquiring requirements. We are always open to new techniques and tools!
Growth in Strix:
training budget – 3000 PLN per year for your growth,
English lessons – we regularly improve our English with native speakers,
leaders' support – we all play for one goal,
sharing knowledge – internal and external training,
Strix Space – monthly internal meetings with beer and pizza,
examinations and certificates – we will help you financially and in terms of content,
company library – you will surely find something for yourself.
Perks & benefits:
Thursday breakfasts – a weekly handful of information about company events,
awesome offices – modern and charming interiors,
no dress code – we like the homely atmosphere,
integration parties – we love to spend time together also after work,
integration trip – 3 days away from the office every year,
volleyball league – we play every Wednesday,
MultiSport – we take care of your physical condition,
LUX MED – we know how important it is to take care of your health,
Aviva – life insurance to make you feel safe,
opportunity to work remotely from time to time.
Stages of the recruitment process:
Phone screen
Interview and portfolio review, in our office (1h)
Design challenge with a member of our team, in our office (1h-2h)
Feedback, decision, and offer!