Ta oferta pracy nie jest już aktualna!
UI/Graphic Designer (Junior/Regular)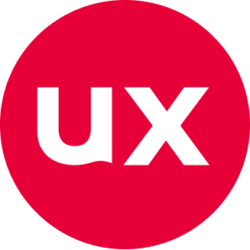 Opis oferty pracy
Jesteśmy UXeria- bardzo zgrany zespół, który od lat realizuje projekty badawczo-projektowe czyli w skrócie UX, UI i Product Design. Z satysfakcją obsługujemy takie firmy jak DHL, PKO BP, The Heart, Grupę FUS, Orbico, Intersport i wiele innych. Realizacja projektów dla poważnych graczy z wielu branż, daje nam możliwość tworzenia rzeczy i rozwoju zespołu w każdym możliwym spektrum UX i Product Designu.
Aktualnie szukamy UI/Graphic Designera. Osoby otwartej na nowe wyzwania, posiadającej bagaż cennych doświadczeń, którą interesuje rozwój w UI/UX.
Co cię porusza i daje energię w projektowaniu?
wiedza i chęć jej pogłębiania z zakresu użyteczności oraz realizacji przekozackich projektów – UX i UCD
możliwość doskonalenia warsztatu i umiejętności tworzenia światowej klasy projektów UI
znajomość narzędzi i wewnętrzna siła, która skłania cię do automatyzacji i optymalizacji pracy za pomocą narzędzi tj. Figma (mile widziane Ai, Ps, Protopie i inne).
dojrzałe podejście w kontakcie z klientem oraz rozumienie jego potrzeb
…i masz za sobą min. 2-letnim doświadczeniem w pracy na stanowisku UI Designer
To koniecznie do nas napisz 🙂
Mile widziana jest również znajomość projektowania 3D.
Co chcemy Ci dać? 
pracę na pełen etat w przemiłej atmosferze – szanujemy się wzajemnie, dlatego forma jest dowolna – umowa o pracę lub B2B
możliwość pracy zdalnej
wpływ na produkty, które razem budujemy
udział w procesie powstawania innowacyjnych rozwiązań
Wyślij maila z CV lub Portfolio (najlepiej oba), na adres: < rekrutacja@uxeria.com >, a w tytule wpisz: UI Designer.
Nie zapomnij dodać klauzuli o przetwarzaniu danych osobowych (zgodnej z RODO):
Wyrażam zgodę na przetwarzanie moich danych osobowych przez Uxeria.com sp z o.o., w celu prowadzenia rekrutacji na aplikowane przeze mnie stanowisko.