Ta oferta pracy nie jest już aktualna!
UI/ UX Designer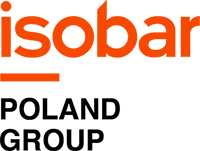 Opis oferty pracy
Isobar Poland Group powstała w wyniku połączenia spółek posiadających uzupełniające się wzajemnie kompetencje. Łączymy to, co najlepsze: strategiczno – kreatywne podejście Isobaru , technologiczno – consultingowe kompetencje Hypermedia i ideę kampanii social by design, według której pracuje Lubię to. W takim składzie jesteśmy w stanie dostarczać kompleksowe rozwiązania biznesowe dla największych graczy na rynku – zarówno lokalnym jak i globalnym.
Isobar Poland Group współpracuje także z pozostałymi spółkami wchodzącymi w skład naszej sieci Dentsu Aegis Network. W tak zacnym gronie ekspertów możemy śmiało mówić, że digital nie ma przed nami tajemnic. Chcesz przekonać się jakie korzyści płyną z pracy w tak zróżnicowanym środowisku?
Szukamy osoby, która dołączy do nas jako:
UI/ UX Designer
Jeżeli kochasz projektować interaktywne prototypy, statyczne makiety low /high – fidelity. Potrafisz robić animacje w np. Proto.Io i oczekiwałeś na premierę InVision Studio i od razu je wykorzystałeś/aś to nasz propozycja jest 100% dla Ciebie.
Żeby odnaleźć się na tym stanowisku będziesz potrzebował/a:
Minimum 2 letniego doświadczenia na stanowisku UI / UX Designer (w agencji lub przy tworzeniu produktu)
Umiejętność prowadzenia kilku projektów jednocześnie – samoorganizacja pracy
Umiejętności pracy w zespole i samodzielnie
Umiejętnego argumentowanie swoich pomysłów
Bardzo dobrej znajomości języka angielskiego
Wiedza i umiejętności, które będą Ci u nas niezbędne:
Dobra znajomość przynajmniej jednego z narzędzi do prototypowania – to Ty wybierasz narzędzie, my Ci je dostarczymy
Znajomość dobrych praktyk projektowania web i mobile
Pisanie i wdrażanie audytów eksperckich
Tworzenie rozwiązań na podstawie wymagań biznesowych i potrzeb użytkowników
Bardzo dobra znajomość Google Analytics i CrazyEgg, HotJar itp. oraz umiejętność wyciągania wniosków na podstawie danych
Mile widziane:
Umiejętności z zakresu UX Design
Doświadczenie pracy w projektach e-commercowych
Umiejętności przeprowadzania badań (wywiady z użytkownikami, testy A/B, tworzenie scenariuszy na potrzeby wywiadów, umiejętność interpretacji wyników badań)
Ze względu na specyfikę pracy w Dentsu Aegis Network oczekujemy od Ciebie:
Gotowości do wsparcia new businessu w działaniach przetargowych
Umiejętnego szacowania wycen
Doświadczenia w pracy w metodyce Agile
Doświadczenia w przeprowadzaniu lub uczestnictwie w warsztatach z klientami
Co dajemy od siebie?
Zatrudnienie w oparciu o umowę o pracę lub współpracę B2B
Bogaty pakiet otwartych szkoleń w obszarze digitalu oraz inicjatywy wspierające rozwój w tym obszarze
Pracę w nowoczesnym biurze ze strefami relaksu, siłownią, parkingiem rowerowym, oraz Day Care dla dzieci
Możliwość angażowania się w projekty z zakresu innowacyjnych technologii w ramach czasu na rozwój lub dodatkowo (Maker Lab – https://hypermedia.pl/#Work)
Hektolitry pysznej, gorącej kawy!
Możliwość zmiany ścieżki rozwoju poprzez udział w otwartych rekrutacjach wewnętrznych w ramach całej sieci Dentsu Aegis Network