This job listing has expired and may no longer be relevant!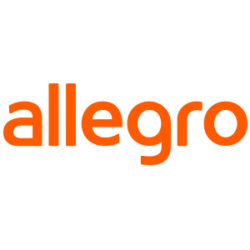 Opis oferty pracy
Jak będzie wyglądać Twoja praca w Allegro?
Każdego dnia będziesz identyfikować potrzeby i rozwiązywać problemy użytkowników Allegro – zarówno kupujących, jak i sprzedających. Będziesz blisko współpracować z najlepszymi analitykami danych, badaczami, product managerami oraz innymi projektantami, którzy będą wspierać Cię w tworzeniu jak najlepszych rozwiązań.
Dlaczego miał(a)byś u nas pracować?
Tworzymy wspólnie serwis, który dobrze znają Twoi znajomi oraz rodzina – i mamy z tego frajdę
Mamy w zespole różne kompetencje – patrzymy na problemy z wielu perspektyw i uczymy się od siebie
Projektujemy w oparciu o dane i wyniki badań – mamy czas, budżet i narzędzia niezbędne do wyboru najlepszych rozwiązań
Wykorzystujemy profesjonalne narzędzia do badań oraz analizy i zbierania danych
Ze swojej strony oferujemy:
Startupową kulturę pracy i stabilność dojrzałej organizacji
Nowoczesne biuro i narzędzia pracy
Nieformalną atmosferę pracy w profesjonalnym zespole
Bogaty pakiet świadczeń pozapłacowych w systemie kafeteryjnym – Ty decydujesz z czego korzystasz
Zajęcia angielskiego opłacane przez nas
Udział w konferencjach w Polsce i za granicą (Europa i USA). Zawsze pomożemy Ci się rozwijać
Szukamy osób, które:
Myślą o doświadczeniu klienta szeroko – jako całości wrażeń, na którą składa się wiele elementów, jak: produkt, komunikacja, obsługa klienta
Mają minimum 2-letnie doświadczenie w projektowaniu
Lubią eksperymentować i nie boją się odważnych pomysłów, stawiają hipotezy i je weryfikują
Potrafią obronić swoje decyzje projektowe, przedstawiając przekonujące argumenty
Posiadają umiejętność "zaciekawiania się" – użytkownikiem, problemem, poszukiwaniem rozwiązań
Biegle znają narzędzia do prototypowania (np. Axure, Sketch, InVision), ale pierwsze pomysły potrafią zwizualizować w kilka minut na kartce papieru
Wyślij nam swoje CV i dołącz do Allegro poprzez stronę -> http://smrtr.io/3bqmF
(mile widziane dołączenie swojego portfolio)
Firma

Allegro

Nowe oferty dla UX co tydzień!

Popularne oferty