Ta oferta pracy nie jest już aktualna!
Senior Product Designer, Follow-up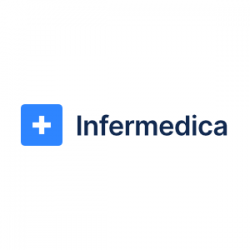 Opis oferty pracy
We're seeking a Product Designer to help us develop a new module within the Infermedica Platform.
Salary: up to 18 000 zł/net + VAT or 15 000 zł gross.
About Infermedica
We're a unique group of people passionate about redesigning healthcare for millions of people on the Planet. We develop state-of-the-art AI-powered technology that supports patients and physicians in making the best clinical decisions.
Everything you need to know before joining Infermedica is nicely gathered in our Hello Book: Infermedica for candidates. Enjoy your reading, and we look forward to hearing from you!
Design at Infermedica
We are human, and we design for humans. Each of us is different, yet we have much in common: we are open, curious and stubborn. Commitment and collaboration are at the heart of everything we do. We are dedicated to delivering top-tier design. We believe that together we can achieve much more than apart.
In our day-to-day work, we design and improve our products. Before we design a solution, we strive to understand the problem, leveraging insights from research and data. We always ask plenty of questions, and we love to challenge existing assumptions.
At Infermedica, we put a strong emphasis on design and user experience, and both are an integral part of our product development process. We have the time and resources to do it right. Our design toolkit consists of Figma, Miro, UserTesting, Dovetail and Lookback. We use Slack, Meet and Around to communicate and Jira to plan our work.
The Design team is divided into three subteams: Communication Design, Product Design and UX Research. We have our own routines and habits, including participating in critiques and discussions around design. Each designer is also embedded in a cross-functional product team where we collaborate with product managers, engineers and data scientists
Why do we need you?
We're extending the Infermedica Platform by developing a new Follow-Up Module, which will improve the patient's experience after receiving a diagnosis. A new product requires that a new team be formed, with the Product Designer playing a key role.
You'll work closely with a product manager, user researcher, and technical leader to define the vision of the new product and collaborate with engineers to execute that vision.
What you'll do
Design a new product. With the goal of providing meaningful user experiences and high-quality design, you'll lead the end-to-end design process, from product discovery through interface design to validation of solutions.
Focus on being user-centered. You'll develop a profound understanding of our market, customers, and users. People will expect that you will be the voice of the user in the company, and you'll be talking directly to the people you design at least once a fortnight.
Participate in user research. In partnership with our user research team, you'll use a variety of research methods to identify user pain points, find opportunities and validate assumptions, all to discover and satisfy user needs.
Take care of accessibility. We want all users of our products to have equitable access to information and features. That's why you'll foster an inclusive design culture and strive to make our products useful and accessible to everyone.
Collaborate with others. You'll be joining a newly formed, cross-functional team. You'll work alongside product managers, developers, and testers to iterate on new and existing features.
Enjoy your autonomy. One of our core values is trust. We always assume good intent and let you do the rest. You'll be able to generate ideas, initiate projects, and run experiments – in fact, we encourage you to do all of these things.
Act as a design advocate. By doing regular showcases, you'll have a chance to contribute to increasing awareness of the value delivered by design and research.
What you'll need
Sense of purpose. As designers and researchers, we believe we are doing something that matters. If you are searching for a place where you can do meaningful work and pursue your passion for design, we'd love to hear from you.
Previous experience. It doesn't matter how long you've been doing design or what school you graduated from. Being the right fit is what matters. You should be an expert in either UI, UX, or visual design, but we will appreciate any experience in various disciplines across product design.
A strong portfolio. Send us relevant work samples that demonstrate your product design skills across user research, product discovery, UX design, UI design, design systems, and visual design.
Great communication skills. Some people say that great design speaks for itself. That's often not the case. You should be able to proactively seek input, provide regular feedback, articulate your ideas to your peers and stakeholders, and explain the trade-offs of your decisions.
Problem-solving skills. You are used to dealing with complexity and navigating through ambiguity. When faced with challenging situations, you just roll up your sleeves and get the job done. You can lead initiatives from start to finish, but know when to ask for help.
Courage. You are not afraid to present bold ideas and challenge assumptions. Furthermore, you love to experiment, work with hypotheses and iterate rapidly.
Curiosity. Asking questions like "Why?", "For whom?", and "What for?" is part of your daily routine. You want to know as much as possible about the problem, the user, the customer, and the context.
It's even better if
You have experience developing a product from the ground up.
You have experience working in a healthcare organization.
You can design visually appealing user interfaces.
Poziom: senior
Minimalny staż pracy: 2 - 5 lat
Poziom: senior
Minimalny staż pracy: 2 - 5 lat