Ta oferta pracy nie jest już aktualna!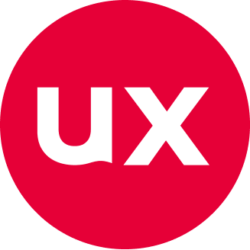 Opis oferty pracy
Cześć!
Jesteśmy UXeria- bardzo zgrany zespół, który od lat realizuje projekty badawczo-rozwojowe czyli w skrócie UX, UI i Product Design. Z satysfakcją obsługujemy takie firmy jak DHL, PKO BP, The Heart, Grupę FUS, Orbico, Intersport i wiele innych. Realizacja projektów dla poważnych graczy z wielu branż, daje nam możliwość tworzenia rzeczy i rozwoju zespołu w każdym możliwym spektrum UX i Product Designu.
Obecnie szukamy Project Managera, który wesprze nas w zarządzaniu naszym rosnącym portfolio projektów.
Jeżeli:
Masz min. 2 lata doświadczenia na pozycji związanej z zarządzaniem projektami, idealnie w UX/IT – umiesz zaplanować i skoordynować projekt, ustalić czas, zakres i budżet;
Świetnie się komunikujesz i potrafisz negocjować;
Wiesz, co to Scrum i Agile (nie musisz mieć certyfikatu);
Jesteś świetnie zorganizowany/a i nie boisz się prowadzenia kilku tematów na raz;
To czekamy właśnie na Ciebie!
Co oferujemy w zamian?
Pracę na pełen etat – na B2B – 8000 – 12000 zł netto / mc. (w zależności od doświadczenia osoby)
Możliwość pracy zdalnej
Wpływ na produkty, które razem budujemy
Decyzyjność i możliwość rozwoju
Udział w procesie powstawania innowacyjnych rozwiązań
Wyślij maila z CV, na adres: < rekrutacja@uxeria.com >, a w tytule wpisz: Project Manager.
Nie zapomnij dodać klauzuli o przetwarzaniu danych osobowych (zgodnej z RODO):
Wyrażam zgodę na przetwarzanie moich danych osobowych przez Uxeria.com sp z o.o., w celu prowadzenia rekrutacji na aplikowane przeze mnie stanowisko.